George F Nesbitt
by David Shields.
Average Reading Time: about 4 minutes.
George Fash Nesbitt was born January 13, 1809 in New York City to James Nesbitt and Maria Carolina Fash.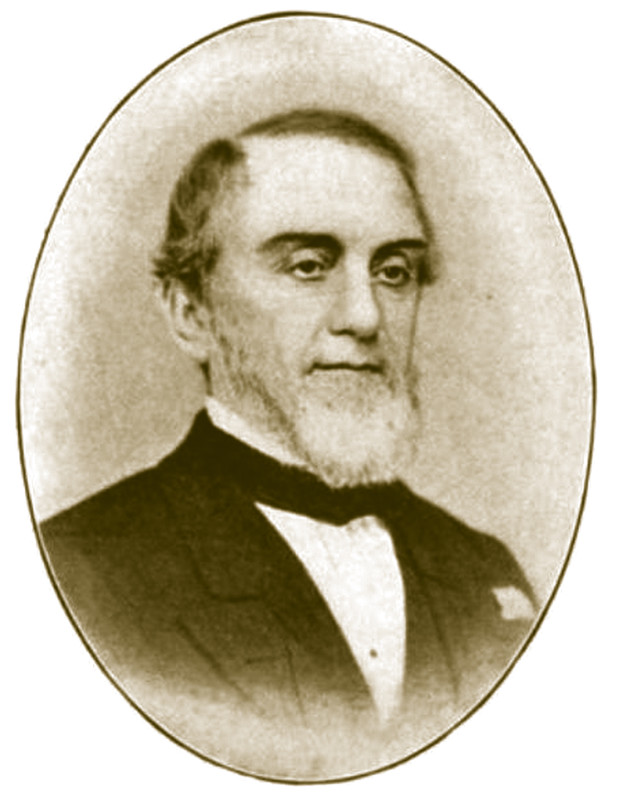 Nesbit apprenticed as a printer under his uncle Joseph C Spear. Upon his uncle's death in 1828, George Nesbitt assumed control of his uncle's thirty-three year old printing business. By 1831, the business was operating under the name of George F Nesbitt at 117 Water Street in New York City, and in 1840 the business was renamed George F Nesbitt & Co.
In March, 1837 Nesbitt met with Edwin Allen ((It appears Nesbitt was married to Adeline Allen. It is as yet unclear if the matching sur name is a coincidence or if there might have been some family relation between Edwin Allen and Nesbitt's wife.)) from Windham, Connecticut then visiting New York City to show specimens of his wood type to printers and manufacturers. The meeting went well and Nesbitt made an arrangement for Allen to produce wood type that George F Nesbitt & Co would sell exclusively as "Nesbitt's Wood Type."
Allen immediately went to work producing a range of wood type styles that would be shown in Nesbitt's first wood type specimen catalog in 1838. "English and French as well as American Specimen Books were procured and such styles as could be made available were introduced into wood. The labor of this was prodigious but it was successfully accomplished and he had the proud satisfaction of its acknowledgment from every source." ((Typographic Art, L Johnson & Co, Philadelphia.))
Nesbitt produced at least four wood type specimen catalogs showing Allen's types, though only two are known to remain in existence. Both copies are housed in the American Type Founder's Library Collection held at Columbia University.
Chromatic wood types ((Chromatic types were made to print in two or more colors. These types produced in register as corresponding pairs, were designed so that one color would overlap another in certain places to create a third color.)) were first produced by Edwin Allen, and shown in Nesbitt's 1841 Fourth Specimen of Machinery Cut Wood Type. ((Paul Shaw's concise blog post An addendum to Print: The Color Issue—George F. Nesbitt 1841 shows two pages from Nesbitt's 1841 chromatic wood type catalog.)) While chromatic types were shown regularly in foundry specimen books of the 1840s and 1850s, Nesbitt's catalog remains the first know example of a wood type specimen catalog showing chromatics. (It should be noted that Columbia University holds the the only known surviving copy of the 1841 catalog.)
Allen continued to produce wood type in Connecticut for Nesbitt until 1852 when Allen sold his wood type manufactory to JG Cooley. Allen would continue to work with Nesbitt inventing and perfecting envelope-folding machines until Nesbitt's death in 1869.
George Nesbitt had an inquisitive mind and an industrious nature. Under his progressive management, George F Nesbitt & Co grew and prospered. In 1840 he planned a printing machine to produce several colors at one impression. This invention proved to be a success. By the mid-1840s his printing house became the largest job office in the city arguably doing more work of this nature than any other in the region and possibly in all of the United States.
In 1852 he secured an order from the Postmaster-General for the manufacture of stamped envelopes. "Envelopes had only been used to any extent for half a dozen years, and postage stamps were also new. The attempt in England to make a combined stamp and envelope up to that time had failed, but Mr. Nesbitt was able to succeed. He also manufactured blank-books, ordinary envelopes, cards, and was a lithographer and stationer." Nesbitt's business continued to prosper and at it's height occupied eight buildings and employed in excess of one thousand workers and craftsmen. ((American dictionary of printing and bookmaking. Wesley Washington Pasko. 1871. pg 389))
"Though there were various other partners in the business after Mr Nesbitt's death in 1869 the firms name remained George F Nesbitt & Co up to the time of it's dissolution in 1912." ((The Red Envelope, No 17, April 1922, pg 5))
George Fash Nesbitt passed away on April 7, 1869. As a testament of Nesbitt's far ranging influence, his funeral services were attended by "numerous delegations from the Typographical Society of New York, Typographical Union No 6 and the Mechanic's Association" as well as other prominent New Yorkers and in a touching show of respect "the leading stationers of the City closed their stores and attended." ((The New York Times, April 11, 1869)) He is buried in Green-Wood Cemetery, Brooklyn ((Plot: Section 68—Lot 1627)) and there is a stained glass window at St. Paul's Episcopal Church in Winona, Minnesota, given in memory of George F Nesbitt by his family.