American Wood Types Folio (1964)
by David Shields.
Average Reading Time: about 8 minutes.
In 1964, Rob Roy Kelly, noted design educator, collector, and historian published a limited edition folio of the wood types he had collected over the previous eight years. 2014 marked the 50th anniversary of the publishing of this important work.
The folio, hand printed by Rob Roy Kelly (1925–2004) in an edition of 45, was well received and quickly sold to private collectors and notable archives. Ruari McLean, the respected type historian lauded the folio, "It is to be hoped that the success of this pilot edition will lead the author to publish his material, and more of his Collection, in a more accessible form. …The machining of these large sheets and the density of the black ink are all that could be desired." ((McLean, Ruari. '19th Century American Wood Type'. The Connoisseur Aug. 1965: 265. Print.))
Kelly collected wood type from local printers for use by his students at the Minneapolis School of Art (later Minneapolis College of Art & Design—MCAD). He began gathering the types in the mid-1950s and continued adding to his collection over the next decade. He started to research the history, manufacture, and use of the growing collection partly in response to questions that arose from working with his students. He described the process "[s]earching and collecting led to identifying and recording, and, for me, that was the foundation for research and everything else became elaboration." ((Kelly, Rob Roy. "Search & Research" Introduction to Specimen Book of Wood Type: From the Collection of the Silver Buckle Press. Madison, Wis: Silver Buckle Press, 1999. pp 5–9.))
The folio specimens initially grew out of the simple, pragmatic need to proof the collected type. "I wanted to record them [wood type] and began the process of printing 17 × 22 inch specimen sheets. I do not recall why, but from the beginning, the sheets were numbered. As pages were printed, I needed to find additional designs in order to print more pages." ((Kelly, "Search & Research" (see footnote 2).)) The paper stock (100lb Strathmore uncoated cover) that he used for the printing of the folio had been secured through a local paper merchant. The 17 × 22 inch paper size was chosen as it fit the reciprocal-bed Hacker press housed, at the time, in the Graphic Design Department that was used for printing all of the specimens.
In a letter dated August 18, 1960, to Mr John Cowles, Jr of the Cowles Foundation in Minneapolis ((Kelly, Rob Roy. Letter to John Cowles, Jr. 18 August 1960. Rob Roy Kelly Correspondence, 1950–1970. The Harry Ransom Center, The University of Texas at Austin.)), Kelly wrote that he had worked on the folio project for four years (starting sometime in late 1956) and that he had—up to that point—printed about 70 pages of type specimens gathered into 50 sets. Kelly also wrote to Cowles, that he had collected "better than 160 faces at this time" and that his plan was to eventually give all of his research notes and collected type to "some institution that specializes in preserving printing artifacts."
A set of early proofs held at the Hamilton Wood Type & Printing Museum ((An early set of Kelly's specimen sheets came to light in 2010 when Wendy Weden generously donated nearly 50 prints to the Hamilton Wood Type & Printing Museum that she had purchased from the estate sale of John W Twiggs (1935–2009) of Minneapolis, Minnesota.)) show that Kelly was printing at least as early as June 1958. The specimen sheets date from mid-1958 to the early 1960s and show initial versions of page composition and experimentation. Perhaps most interesting is that the specimens make clear what types Kelly had collected by the early 1960s and—as some of the types shown were not included in the final collection—what he may have used to trade for more exotic types. "I had a number of duplicate fonts reserved just for trading." ((Kelly, "Search & Research" (see footnote 2).)) It is unclear if these prints may have been collated and sold as early attempts by Kelly to raise funds to support further research, or if they were printers' overage that were gifted to friends and interested parties.
"Design of the pages was done on the press and approximately fifty to sixty impressions were pulled for each page. Makeready on these old types, many of which were warped or badly nicked, often took seven to ten hours. Very quickly, I became an expert at improvisation—shimming, manipulating the cylinder packing, and molding wax into nicks, cracks and broken edges. …The years spent working on the press with these old types were especially rewarding to me and I probably gained more insight into printing and its attendant problems through this endeavor than through any other single experience." ((Kelly, Rob Roy. 'American Wood Type'. Innovations in Paper 1970, vol 2, no 1: 2–4. Print. Cary Graphic Arts Collection, Rob Roy Kelly Archive Box 15.))
Up until 1963, the research component of Kelly's work with wood type had been collected only as disparate notes, photocopies, and microfilm of specimen catalogs from archives he had visited. At the invitation of Martin Friedman, the Director of the Walker Art Center where Design Quarterly ((Design Quarterly was a periodical dedicated to covering the fields of contemporary architecture, landscape architecture, urban planning, and product and graphic design, published 1954–1993 by the Walker Art Center in Minneapolis.)) was published—and where Kelly was the staff designer at that time—Kelly agreed to write and design an issue of the periodical that would be dedicated to American wood type. As the manuscript for the periodical began to take shape, Kelly was assisted by Georgia Beaverson the staff editor for the Design Quarterly. The work on the publication revealed to Kelly the shortcomings and gaps in his own research and led him "to the decision to pursue the research and publish a definitive book on wood types." ((Kelly, Innovations in Paper. (see footnote 7). )). His research was first published in Design Quarterly issue no. 56, in late 1963.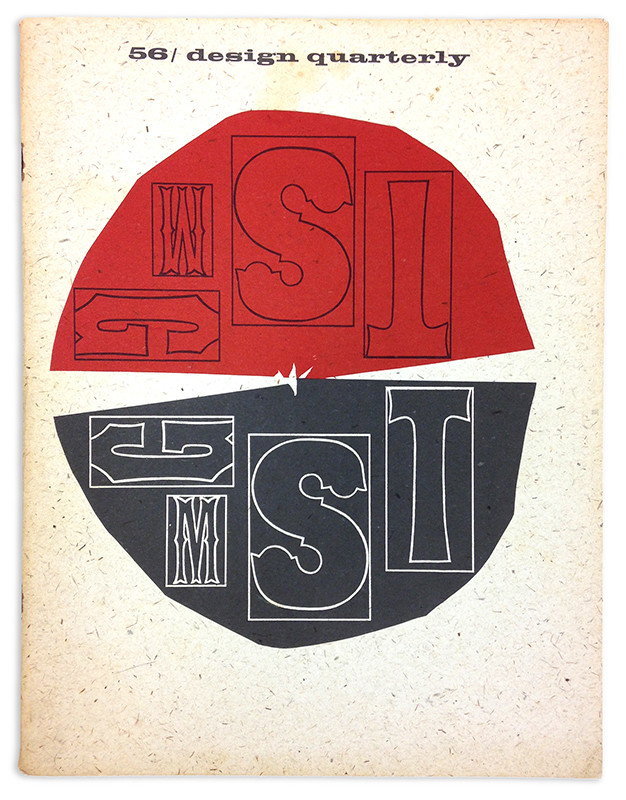 In the spring of 1964, Kelly accepted the offer to become the Chair of the Department of Graphic Design at the Kansas City Art Institute. "Faced with the possibility of moving several hundred pounds of printed materials, approximately 2 tons of wood type and considerable research materials" ((ibid.)) Kelly decided to complete the specimen portfolio before departing for Kansas City.
Production of the folio was completed late that spring or early that summer. A ten page bound document was produced, made up of text largely developed for the Design Quarterly, though with additional documentation of Kelly's ongoing research, as well as an index of the type specimens included in the folio. Editing was again performed by Georgia Beaverson—now Georgia O'Connor. The specimen portion of the folio showed a substantial, though not complete, sampling of Kelly's wood type collection. "Not included in this book are German wood typefaces which made their appearance around 1850, ((To correct an error in Kelly's text, it should be noted that the first Germans, or broken scripts, in wood type were two designs in the Textura style named Black and Open Black first cut by Edwin Allen, and which appeared in George Nesbitt's 1838 First Premium Wood Types, Cut by Machinery.)) coinciding with the German migrations to this country. Page showed his first German in 1859 and devoted an entire specimen book to Germans in 1870. The author's collection of these will be shown in a future publication." ((Kelly, Rob Roy. Wood type; specimens of nineteenth-century American wood type with introductory notes. Kansas City, Mo: Rob Roy Kelly, 1964. Print.)) Whether this 'future publication' was envisioned as another folio, or if he planned to include specimens of his German types in American Wood Type 1828–1900, subsequently published in 1969, specimens of his German types were never published. ((7 of Kelly's German types were included in his wood type collection acquired by The University of Texas in 1966.))
American Wood Types 1828–1900, Volume One was produced as a limited edition of 45 folios. Herman Cohen of the Chiswick Book Shop ((Chiswick Book Shop records, 1952–1958 held at Newberry Library, Chicago.)) in New York City had agreed to sell and distribute 35 of the 45 copies of the folio ((Kelly was first introduced to Herman Cohen through Dr Bernard Karpel, head librarian of The Museum of Modern Art in New York. In 1966, Karpel would purchase Kelly's wood type collection and sell it to the Harry Ransom Center at The University of Texas at Austin.)). In the August 1965 issue of The Connoisseur magazine, Ruari McClean wrote that "[u]nfortunately only forty-five sets have been printed and those for sale, distributed through the Chiswick Book Shop of New York, are already disposed of." ((McLean, The Connoisseur (see footnote 1). )) Rolan Baughman, the storied Head of Columbia University's Department of Special Collections trumpets the acquisition of Kelly's folio. "Mr Kelly's work, then, has rescued from oblivion an important bit of Americana." ((Baughman, Roland. 'Notable Purchases'. Columbia Library Columns Feb. 1965: 44. Print.))
Today, 50 years after the folio's first publication, 32 of the 45 copies have known recorded locations and have been accounted for in the hand list of Kelly's folio that I developed and maintain on this blog.