"Billy Morgans—the boss typo of the County…"
by David Shields.
Average Reading Time: about 5 minutes.
William Thomas Morgans, was one of the dominate producers and innovators of wood type in American in the late 1870s, competing successfully against William Page, Vanderburgh, Wells & Co and Charles Tubbs. He was born July 2, 1844 ((Rob Roy Kelly indicates Morgans' birth year as 1843 in American Wood Type, 1828–1900: Notes on the Evolution of Decorated and Large Types and Comments on Related Trades of the Period.
 New York: Van Nostrand Reinhold Co., 1969.

 pg 45–46)) in Bethel, New York to Eleazer and Martha J Morgans. In his life he was a newspaper publisher, job printer, inventor and founding partner of the wood type companies Young & Morgans and later Morgans & Wilcox Mfg Co.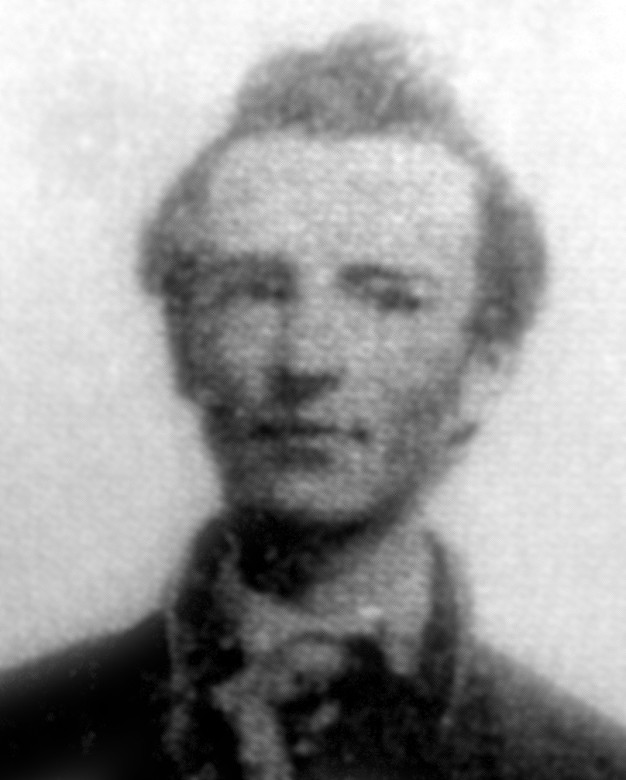 William was the eldest of three children, and grew up in Youngsville, New York. His obituary in the Monticello Republican Watchman described him as an "exceedingly bright pupil, cleverest fellow in the world, a good student and a genius" who learned to speak and write German and French fluently under a tutor retained by his parents. William was also mechanically minded and conducted a successful watch repair business at age 15 ((Republican Watchman (Monticello, NY), "Obituary: William T. Morgans," April 21, 1882.)).
On August 21, 1862, at age 18 he enlisted in the Union Army to serve a three year term. Morgans mustered in as sergeant, Company F, 143 Regiment, New York Volunteers on October 8, 1862; was promoted to first sergeant, July 23, 1864; and then sergeant-major, September 1, 1864 ((143rd New York Volunteer Infantry, http://skaneateles.org/143_inf/143m.html)). Morgans was also the bearer of the colors through the siege of Atlanta.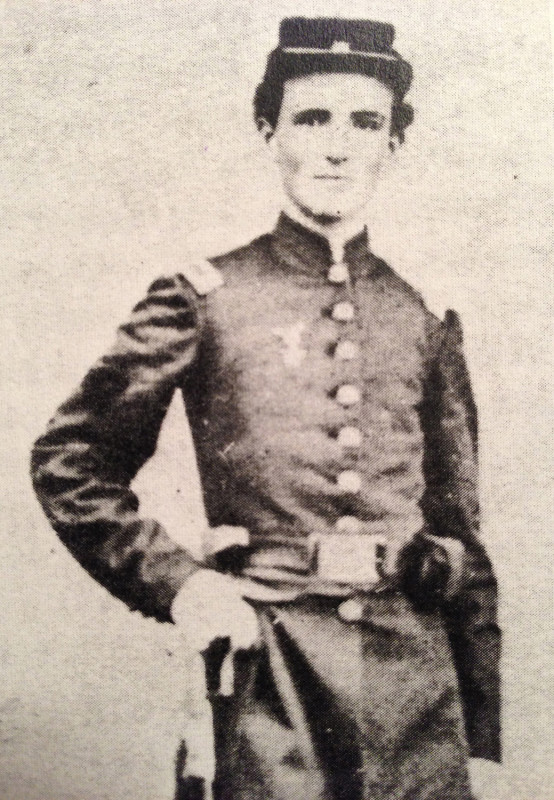 During the Battle of Bentonville, North Carolina, in March, 1865, "the regiment had been ordered to advance when word came that the men were out of ammunition. The troops were separated from their supply wagons by an open field that was subject to fierce enemy fire. Bullets filled the air, and it seemed certain death to attempt to cross the field. Undaunted Morgans and [Adjutant] Hammond volunteered to make the dash. With bullets whizzing around their heads, they crossed the field to the supply wagon, and returned, each carrying 156-pound box of cartridges." (("Fortune's Favorite." Civil War Times Illustrated, Feb 2002,  p. 72 )) This act of bravery led to Morgans being promoted to first lieutenant on April 15, 1865, mustered into Company G, April 26, 1865, and participated in the Grand Review in Washington, DC in May 1865, where he was "showered with bouquets." He mustered out with company on July 20, 1865, near Alexandria, Virginia.
Morgans returned home to Youngsville, where he married Sophia Elizabeth Inderlied sometime in 1866. In 1868 he founded The Record and then in 1870 sold the newspaper to Arthur Childs. Shortly after this the family—which now included daughter Maud, born in 1867, and son Floyd, born in 1869—moved 10 miles east to Liberty, New York, where he founded the Liberty Register ((The first issue of the Liberty Register was published on July 29, 1870.)). In 1874 Issac Jelliff, Esq, joined the paper to manage the editorial, and he "…Billy Morgans—the boss typo of the County…" ((Republican Watchman (Monticello, NY), Nov 12, 1874.)) focused directly on managing the day-to-day printing activity for the paper as well as conduct its business as a jobbing printer.
Morgans excelled as a printer and with strong mechanical proclivities set to improving the machinery. He was awarded two patents in 1870: US Patent 99101 ((Issued Jan 25, 1870 archived online))  a self-inking card-and-billhead treadle press on a simple clamshell principle, and US Patent 108813 ((Issued Nov 1, 1870 archived online)) for setting type and "instantly and simultaneously redistributing all the characters to their proper places." ((Scientific American, Vol. 23, No. 20, New York, November 12, 1870.)) Sometime before 1876 he also perfected machinery for cutting wood type.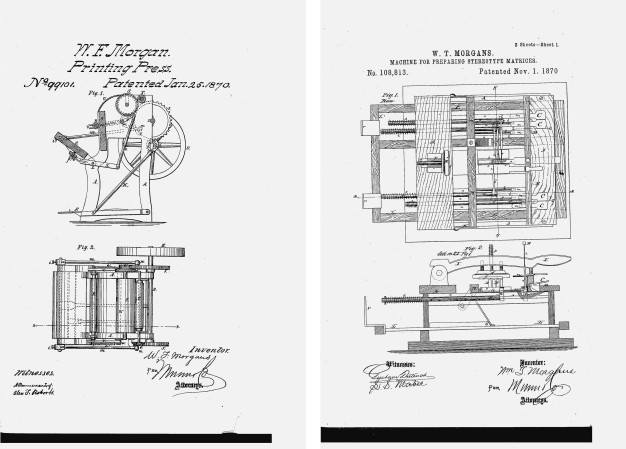 Morgans sold his interest in the Register sometime after March, 1876 and partnered with the wealthy industrialist George Young of Ellenville, New York ((This may very well be the same George Young who served with Morgans during the war as a first lieutenant in Co. A, 143 Regiment though more research is needed to clarify and confirm these facts.)) to found the wood type manufacturing company Young & Morgans in Napanoch, New York. The company prospered until a fire, started by a spark from the boiler, destroyed the manufactory on April 20, 1880. The two immediately began searching for a new location with better access to train lines and telegraph stations and by June of that year had prospects in Kingston, Middletown, and Poughkeepsie. For some, as yet, unexplained reason Mr Young decided to remove himself from the partnership. Rob Roy Kelly attributes this to Young's having "no desire to involve himself in the Middletown plant." ((Kelly, ibid.))
In the July 28th Middletown Argus it was reported that the "half interest of Mr Young in the business has been purchased by our young townsman Mr H K Wilcox, and the firm will hereafter be known as Morgans & Wilcox Mfg Co of Middletown. The firm has purchased about four acres of land on the corner of North Street and Winser avenue, and will at once begin the erection of a building one hundred feet, front on Wisner Avenue, all to be two stories in height. As the firm have a large number of orders already waiting to be filled, the necessary machinery will be placed in the new works as soon as they can be enclosed." ((Daily FreeMan (Kingston, NY), "Will Locate in Middletown," July 29, 1880.))
Cutting type in the new plant commenced on Saturday, September 4, 1880.
Morgans worked tirelessly to continue the success that he had built in Napanoch. In the 1881 Specimen Book of Wood Type Morgans & Wilcox Mfg Co reported that "since the disastrous fire of 1880 we have re-made nearly all our patterns…." In Middletown, Morgans "found himself just where he had long desired to be…his hopes for the future were bright and promising…." (( Republican Watchman (Monticello, NY), "Obituary: William T. Morgans," April 21, 1882.))
On Tuesday, April 11, 1882 Morgans contracted pneumonia and by Friday of that week, succumbed to his illness. William was survived by his widow Sophia and children Maud, Floyd, Lillian, Leslie and William Jr (three of their children, May Mary, Bertha and Claire, each died earlier in 1880). Sophia assumed his interest in the company until the wood type manufactory was purchased by The Hamilton Mfg Co of Two Rivers, Wisconsin, on Dec 15, 1897. The equipment manufacturing portion of the company retained the name Morgans & Wilcox Mfg Co and continued to produce printer's furniture well into the 20th century. The company was headed by William's son Floyd W Morgans (1869–1938) until 1938 and then by his grandson Warner Knight Morgans (1897–1967) until it ceased operations sometime between 1949 and 1950.
William T Morgans is interred with his family in the Morgans' plot at Liberty Cemetery, Sullivan County, New York.